SELECTED QUOTES FOR BLOOD TEA AND RED STRING:
 "As much a work of sculpture as of cinema...this dark fairy tale is perfectly au courant, seamlessly in step, in its herky-jerky way, with the artisanal ethos, moody nostalgia and vogue for gothic motifs (skulls, taxidermy) rampant on the gallery scene." - Nathan Lee, NEW YORK TIMES
"A David Lynchean fever dream on Beatrix Potter terrain…as lovingly crafted as it is unsettlingly sour-sweet" - Dennis Harvey, VARIETY
"Its haunting images speak directly to some dark, preverbal corner of the heart" - Maitland McDonagh, TV GUIDE'S MOVIE GUIDE
" Inspired by Czech surrealist Jan Svankmajer ("Little Otik"), with a tad of David Lynch thrown in... an original head trip" - V.A. Musetto, NEW YORK POST
INTERVIEWS:
Skwigly Online Animation Magazine - December 13, 2018
beautiful.bizarre, online and print - June 16, 2016
Where Women Create, print - Fall 2014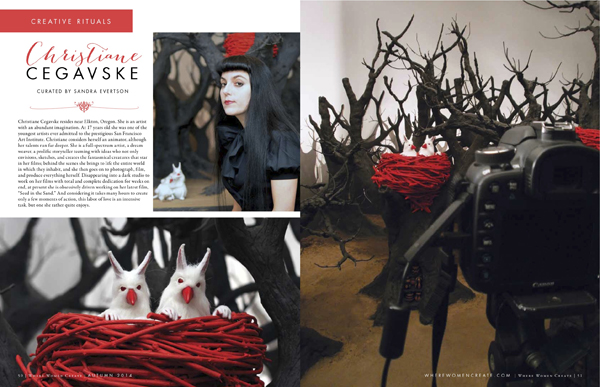 Oregon Art Beat, Public Television - October 2012
Wardance, online - March 11, 2012
Zora von Burden, Women of the Underground: Art (2012) 160-167.
Spectacular Optical, online - November 9, 2011
The News Review, online and print version page 2 - August 9, 2011
Coilhouse, online - January 26, 2011
Manufactured Dissent, online - June 18, 2010
Max Stout, Glubdub - Tales From The Underground (2010) 56-63.
Flower Frankenstein, "Interview with Christiane Cegavske," Energy Talk Radio Blog (June 2009)
Liza Simone Wolff, "Artist Profile: Christiane Cegavske," Big Wheel Magazine, (November 2005) 42-45.
LECTURES AND DISCUSSIONS
GIRAF Festival of Independent Animation: Featured Artist - Calgary, Alberta, Canada (November 19-29, 2020)
H&R BLOCK ARTSPACE: The Noon Thing, artist talk - Kansas City, Missouri (November 15, 2019)
UNIVERSITY OF CHICAGO: Doc Films, "The Dreamlike State: a Surrealist Stop Motion film series," screening and Q&A; Fire Escape Films Master Class, lecture and demonstration (March 6, 2016)
UNIVERSITY OF OREGON: lecture and film screening for "Time Based Media" (February 1, 2014)
PORTLAND COMMUNITY COLLEGE: lecture and demonstration for "Art Beat Week" (May 8-9, 2013)
FLATPACK FESTIVAL, Birmingham, UK: Puppetology Panel via phone (March 26, 2010)
ASIFA – Hollywood: Stop Motion in the Computer Age Discussion Panel (April 2007)

ANIME LOS ANGELES: Blood Tea and Red String discussion panel (February 2007)