SELECTED QUOTES FOR BLOOD TEA AND RED STRING:
"Every now and then, a film comes along that is so original and made with such clear passion that it almost takes you a moment to catch your breath. Christiane Cegavske's Blood Tea and Red String is precisely such a film" - Alexandra Heller-Nicholas, FANGORIA
"truly a beautiful work of art and a feast for the senses" - Elizabeth Rios, FILM DAILY
"As much a work of sculpture as of cinema...this dark fairy tale is perfectly au courant, seamlessly in step, in its herky-jerky way, with the artisanal ethos, moody nostalgia and vogue for gothic motifs (skulls, taxidermy) rampant on the gallery scene." - Nathan Lee, NEW YORK TIMES
"A David Lynchean fever dream on Beatrix Potter terrain...as lovingly crafted as it is unsettlingly sour-sweet" - Dennis Harvey, VARIETY
"Its haunting images speak directly to some dark, preverbal corner of the heart" - Maitland McDonagh, TV GUIDE'S MOVIE GUIDE
"Inspired by Czech surrealist Jan Svankmajer ("Little Otik"), with a tad of David Lynch thrown in... an original head trip" - V.A. Musetto, NEW YORK POST
CRITIC'S LISTS
Screen Rant, 10 Best Stop Motion Films, According To Letterboxd (November 23, 2022)
Looper, 12 Stop-Motion Movies Made For Adults (November 18, 2022)
Rotten Tomatoes, 49 Best Stop-Motion Animated Movies of All Time (November 22, 2022)
Creepy Catalog, Top 17+ Animated Horror Movies (September 27, 2022)
The Cinemaholic, 7 Best Stop-Motion Animated Movies of All Time (July 5, 2022)
Screen Rant,10 Stunning Animated Movies Directed By Women (May 4, 2022)
Looper, 30 Creepy Movies Like Coraline You Should Watch Next (February 9, 2022)
Animation for Adults, 13 Alternative Animated Films To Watch This Halloween (October 29, 2020)
Macabra, 9 Animações Aterrorizantes Para Os Fãs De Horror (October 5, 2020)
Syfy, 8 Best Sci-Fi Films With Minimal Dialogue (February 27, 2017)
Taste of Cinema, 40 Best Stop-Motion Animated Movies of All Time (April 7, 2015)
Taste of Cinema, 15 Best Surrealist Movies of The 21st Century (January 13, 2015)
Cartoon Brew, Animated Films by Solo Artists (October 12, 2006)
My Daily Self Motivation, 10 increíbles piezas de arte hechas por una sola persona (n.d.)
INTERVIEWS:
Angelina Leopardo, "Interesting Beings," KZSU Stanford 90.1 FM - October 12, 2022
Skwigly Online Animation Magazine - December 13, 2018
beautiful.bizarre, online and print - June 16, 2016
Where Women Create, print - Fall 2014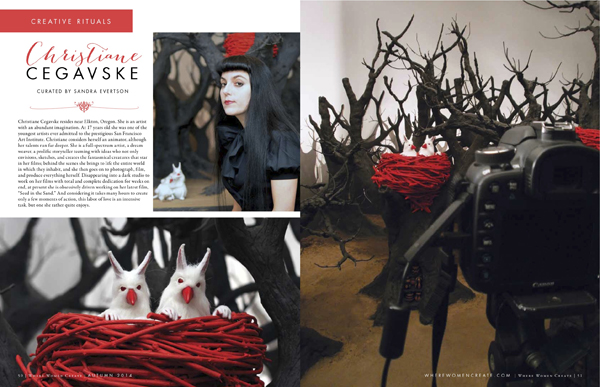 Oregon Art Beat, Public Television - October 2012
Wardance, online - March 11, 2012
Zora von Burden, Women of the Underground: Art - 2012, 160-167.
Spectacular Optical, online - November 9, 2011
The News Review, online and print version page 2 - August 9, 2011
Coilhouse, online - January 26, 2011
Manufactured Dissent, online - June 18, 2010
Max Stout, Glubdub - Tales From The Underground (2010) 56-63.
Flower Frankenstein, "Interview with Christiane Cegavske," Energy Talk Radio Blog (June 2009)
Liza Simone Wolff, "Artist Profile: Christiane Cegavske," Big Wheel Magazine, (November 2005) 42-45.
PRESENTATIONS AND PANELS
Uma Gallery Oakland, Christiane Cegavske: Artist Talk - Oakland, California (July 13, 2022)
GIRAF Festival of Independent Animation: Featured Artist - Calgary, Alberta, Canada (November 19-29, 2020)
H&R BLOCK ARTSPACE: The Noon Thing, artist talk - Kansas City, Missouri (November 15, 2019)
UNIVERSITY OF CHICAGO: Doc Films, "The Dreamlike State: a Surrealist Stop Motion film series," screening and Q&A; Fire Escape Films Master Class, lecture and demonstration (March 6, 2016)
UNIVERSITY OF OREGON: lecture and film screening for "Time Based Media" (February 1, 2014)
PORTLAND COMMUNITY COLLEGE: lecture and demonstration for "Art Beat Week" (May 8-9, 2013)
FLATPACK FESTIVAL, Birmingham, UK: Puppetology Panel via phone (March 26, 2010)
ASIFA – Hollywood: Stop Motion in the Computer Age Discussion Panel (April 2007)

ANIME LOS ANGELES: Blood Tea and Red String Discussion Panel (February 2007)