Christiane Cegavske's second self-produced feature-length stop-motion puppet animation, Seed in the Sand, is currently in production!
Seed in the Sand is a surreal, dialogue-free stop-motion feature film, handmade and animated by Christiane Cegavske. The Nest Dwellers are furry beaked creatures who live in a stark, dying world of leafless trees. Haunted by dreams of beckoning dolls on a dark sea, one Nest Dweller sails across a sea of sand in search of salvation.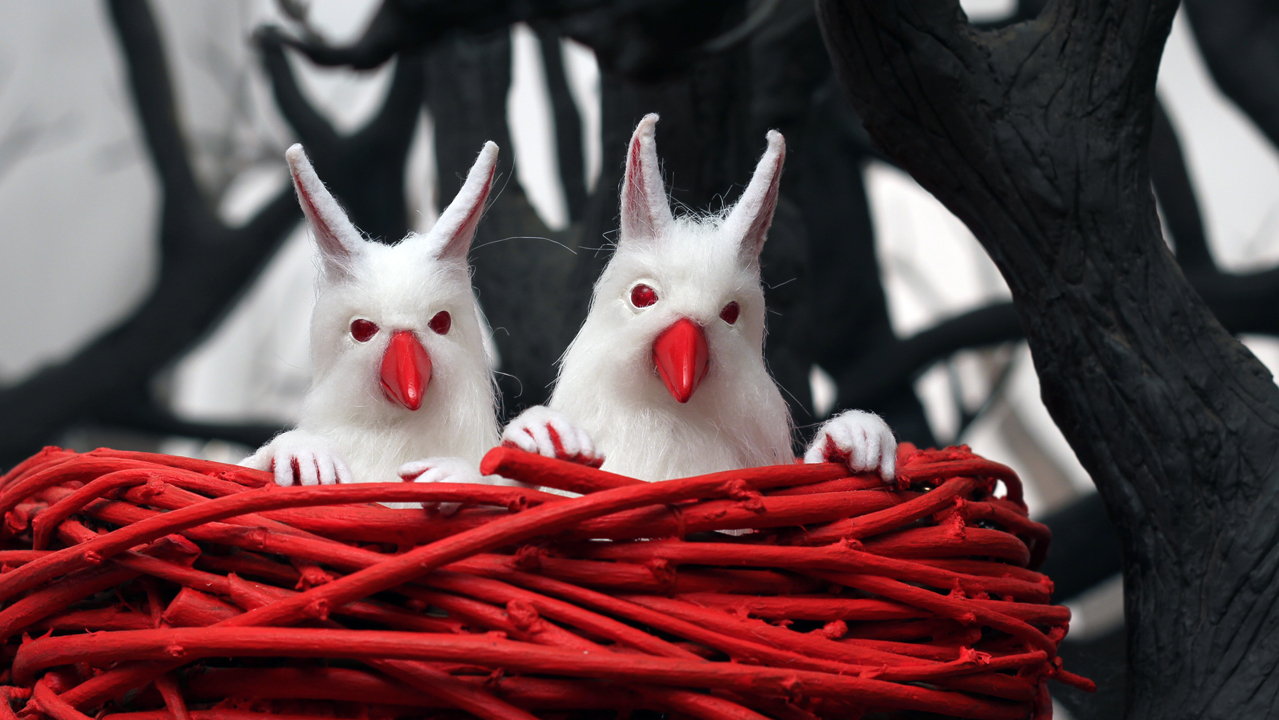 Seed in the Sand is primarily stop-motion animation with limited live-action sequences and one 2D animated sequence. The Masked Woman is a puppet in the stop-motion animated world. In live-action segments that mimic my miniature world, Cegavske appears as the Masked Woman wearing a painted life-mask cast from her own face.
She hand makes all of the characters and sets, mixing dream images and symbols from magic, folklore, and pre-Grimm versions of familiar fairy tales to create her own surreal mythology.
Seed in The Sand is dialogue-free, and the story is told in images, gestures, and music, with characters voiced by a variety of musicians. Gitane Demone of Christian Death sings, shrieks and croons as the Sea Monster. Suzi Gardner (L7) provides the raucous cries and songs of the three Antlered Ones. Karie Jacobson (The Dagons) is composing all of the music for the film, as well as providing the birdlike whistling of the Nest Dwellers and the voices of 12 dolls who sing backwards, luring you into a dream world on cellophane waves. Drew Kowalski of The Dagons is providing an eerie atonal soundtrack. This team also created the musical soundscape for the immersive installation shown at Cegavske's 2021 Cotton Flesh and Stardust art show in Los Angeles. The installation will undergo changes and be the centerpiece in Cegavske's upcoming Cottonflesh Sacrifice gallery show opening July 9 in Oakland, California.
What's in it for you? With your pledge, you will be getting an exclusive, behind the scenes look at production and access to film clips that are for your eyes only! Rewards include access to broadcasts from my studio, digital files of production artwork and more!
Click here to visit the archived Kickstarter Project.